Gallery of my turned items. Please click on the thumbnails below to view them enlarged.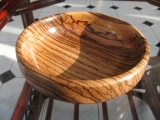 A bowl made from zebrano wood, 17 cm in diameter, 6cm high and finished with food safe oil.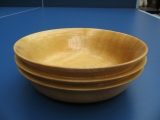 A three-lipped bowl from pao-amarelo to give an illusion of a stack of bowls. 15 cm in diameter and finished with lacquer.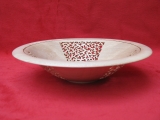 A sycamore bowl thinned down to 2.5 mm with free-hand piercing design in three alternate segments. 20 cm in diameter and finished with lacquer.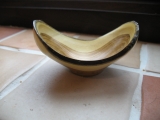 Laburnum natural edge bowl 10 cm long, 8cm wide. Also known as winged bowl or butterfly bowl.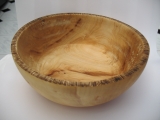 Poplar bowl 20 cm across and 10 cm high with pyrography decorations on the bowl edge.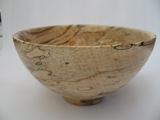 Spalted beach bowl in Japanese style 12 cm across and 8 cm high.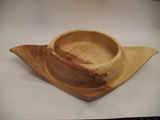 A diamond shaped platter with a bowl centre made from yew. 26 cm long, 18 cm across and 5 cm high.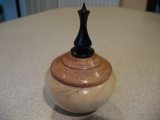 A box made from poplar with mahogany lid and ebony finial. 15 cm high and 10 cm diameter.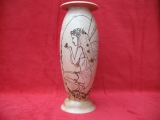 A 22 cm high poplar vase with a fairy design using pyrography.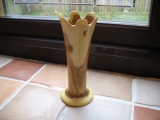 A vase in laburnum 20 cm high, showing a lovely contrast between the lighter sap wood and darker heart wood.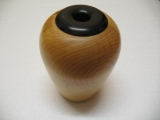 A narrow opening yew vase with ebony top, 20 cm high and 25 mm orifice.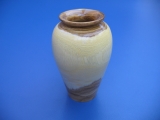 A laburnum vase 12 cm high by 8 cm in pitcher design. Lacquer spray finish.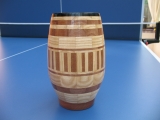 A segmented vase 22 cm high and 15 cm across, using ash, mahogany and ebony pieces. A total of 205 pieces have been used in the construction.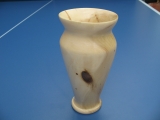 A poplar vase with brilliant grain patterns. A slightly unusual wide-mouthed design, 15 cm high and 10 cm across at the rim.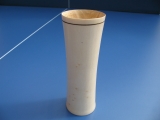 Designed in the shape of a quiver, a thin walled poplar vase 15 cm high and 8 cm at the rim. The line has been burnt in while still on the lathe before finishing off.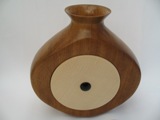 A flask shaped vase 20 cm high and 8 cm thick. Mostly out of mahogany, the sides are from sycamore that has been textured with polished ebony centres.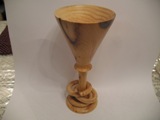 Love goblet made from yew. The three rings are carved out while turning from the stem region and cannot come off. They represent engagement, wedding and eternity.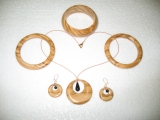 Wooden jewelley set using Spanish olive wood and ebony.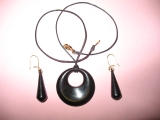 Another wooden jewellery set turned out of ebony wood.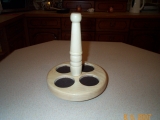 A functionally useful turning. A condiments dispenser on a turntable fondly called lazy Susan.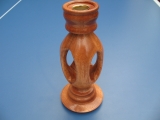 An example of involuted or inside-out turning. Candle stand 15 cm high in mahogany.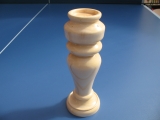 A 20 cm high dual function candle stand in ash. It has holes around the top for incense sticks and also accepts a tea-light candle on the top. Heavy and very stable.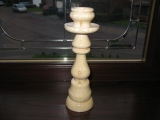 Another candle stand in ash with a design to catch candle drip. 20 cm high and with a copper insert to accept long candles.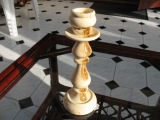 A 20 cm high candle stand in cherry wood with glossy acrylic finish.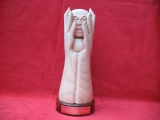 A 28 cm high sculpture in ash combining turning on the lathe to a vase form followed by hand carving to shape the hands, fingers and nails. The head was carved separately and fixed inside, locking it in with the bent finger tips. Captioned 'The Migraineur' it commemorates the suffering of migraine sufferers across the globe.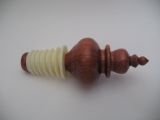 A sample of wine bottle stoppers that get gifted away faster than I can turn them.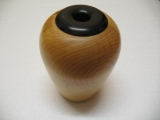 A sample of another wonderful gift item. Pens turned from wood as well as acrylic are fun to turn and popular with friends and all.